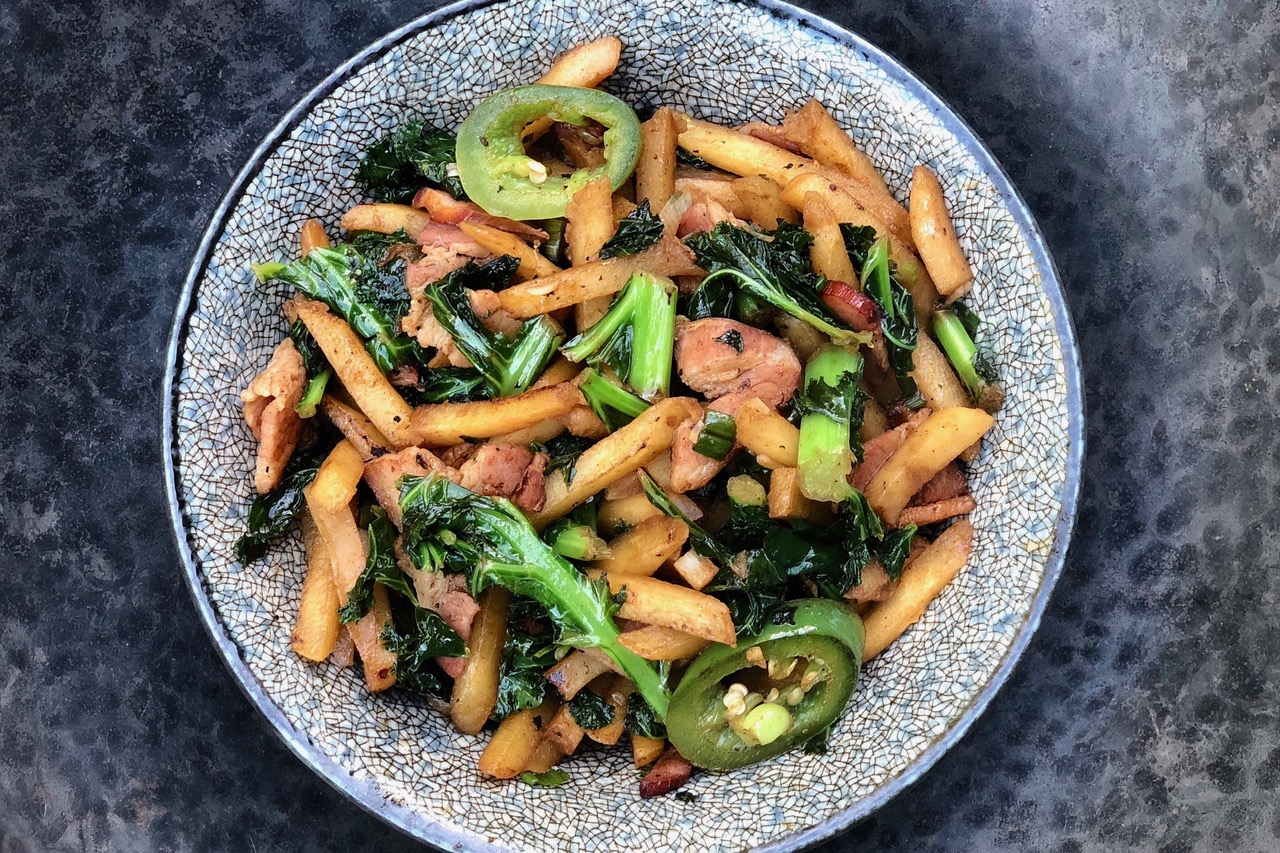 20 Jan

Spicy Stir-Fried Kale and Potatoes, with Bacon
Stir-fried potatoes is always a revelation to those who've never tried it. Usually, fine strips of potatoes are stir-fried with a touch of soy sauce and vinegar for a satisfying dish to eat with rice.
While cutting fresh potatoes into fine strips is not hard, it can be time-consuming for those who are still developing knife skills. I wondered if frozen shoestring fries could serve as a shortcut and tested this recipe using a store-brand frozen shoestring fries. It does save time, but the caveat is that you lose the crisp texture of fresh potatoes. You certainly can use fresh potatoes. I suggest using a low-starch potato, such as red, and cutting them into fine julienne. If you use a bagged kale salad mix, as I did, I recommend trimming any woody stalks from the pieces closer to the stem.
SPICY STIR-FRIED KALE AND POTATOES, WITH BACON
MAKES 4 SERVINGS
3-4 slices thick-cut smoked bacon
1 teaspoon vegetable oil
2 cups frozen shoestring fries, gently defrosted in the microwave, or 2 cups fresh red potatoes cut into thin strips
3 cups kale salad mix, packed
2 cloves garlic, peeled and thinly sliced
1 stalk green onion, trimmed and finely chopped
1 jalapeno pepper, sliced
1 tablespoon soy sauce
1 tablespoon hoisin sauce
2 tablespoons water
1 teaspoon unseasoned rice vinegar, or other mild vinegar
Preheat wok over medium heat. Add the bacon and stir to brown and render some of the fat, about 1-2 minutes. Watch the heat and make sure to adjust if it looks like the wok is too hot. After the bacon has browned and rendered, turn off the heat and remove the bacon onto a paper-towel-lined plate. Set aside. Do not discard the rendered fat.
Turn the heat to medium-high. Add the 1 teaspoon vegetable oil and let heat for a few seconds, or until wisps of smoke rise. Add the potatoes and stir to coat in the oil. Continue stir-frying for about 1 minute, or until the potatoes start to cook through. Add the kale, garlic, green onions, jalapeno, soy sauce, hoisin sauce, water, and vinegar. Stir-fry well to combine all ingredients and wilt the kale. Turn up the heat to high and continue to stir-fry actively for about 2 minutes, being careful not to let the food rest over high heat (or it will burn). Check a potato strip for doneness. If the thicker pieces aren't cooked through, stir-fry for an additional minute or so. Remove from heat and serve with rice.