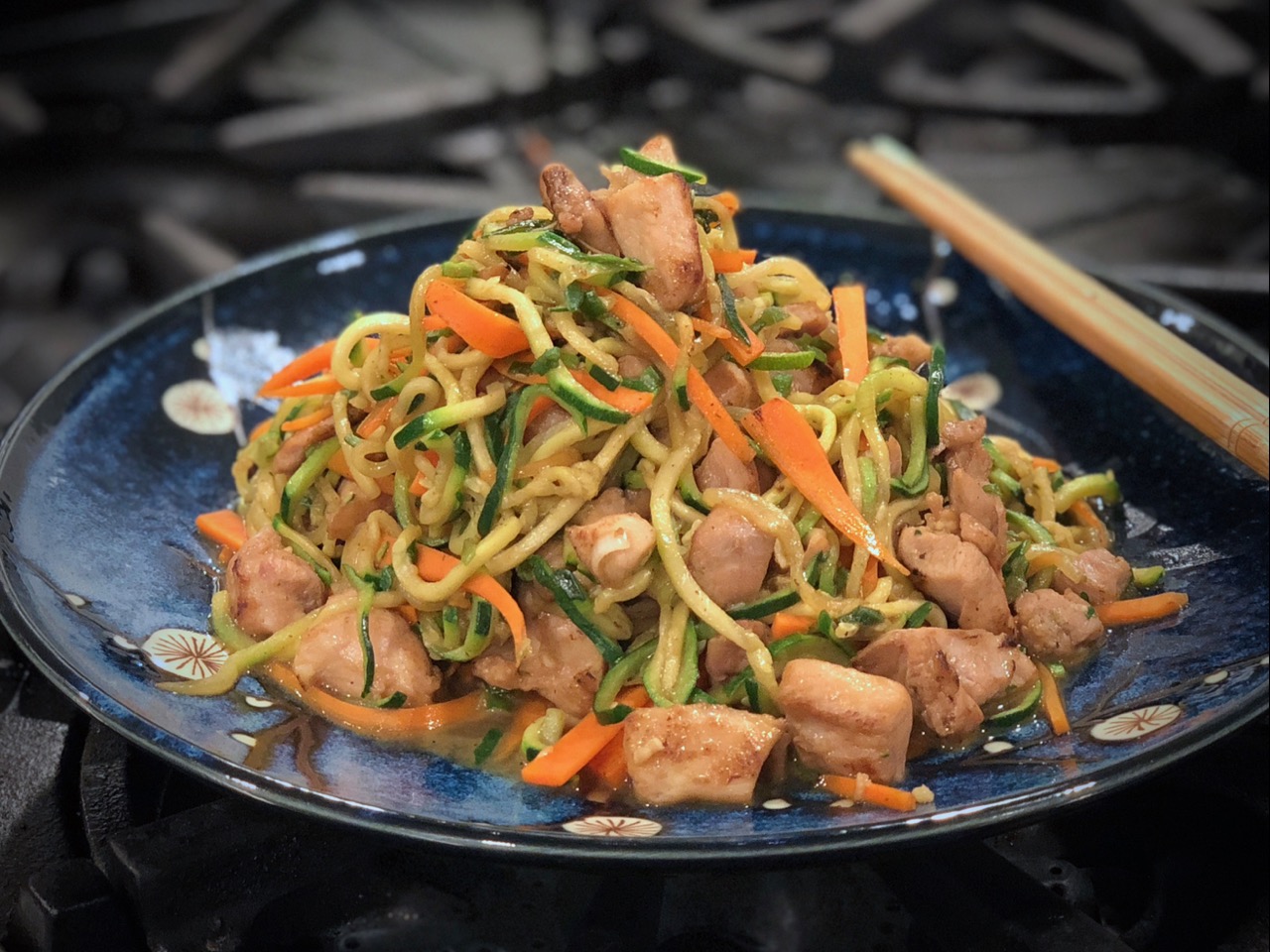 07 Jan

Easy-Peasy Zucchini Noodles with Chicken and Garlic

Somehow, when zucchini are spiralized into noodles, they gain fresh appeal. My neighborhood supermarket sells zucchini noodles in clamshell boxes, which makes it convenient to throw together this stir-fry. You also can make this with thinly sliced zucchini coins, if you can't find zucchini noodles and don't have a spiralizer.

ZUCCHINI NOODLES WITH CHICKEN AND GARLIC
MAKES 2 SERVINGS AS AN ENTREE OR 4 SERVINGS AS PART OF A LARGER MEAL

10 ounces boneless, skinless chicken thighs (about 3 large thighs), cut into roughly 1-inch chunks

Marinade:
1-1/2 teaspoons soy sauce
1-1/2 teaspoons cornstarch

1 tablespoon vegetable oil
3 cups zucchini noodles (about 1/2 to 3/4 pound)
1 medium carrot, peeled and cut into thin strips 3 inches long
2 stalks green onions, trimmed and finely chopped
5 cloves garlic, crushed

Sauce:
2 tablespoons soy sauce
1 tablespoon water

Optional: Chili sauce to taste

In a medium bowl, combine the chicken with 1-1/2 teaspoons soy sauce. Mix well to coat. Add the 1-1/2 teaspoons of cornstarch and mix well again.

Preheat wok over high heat until wisps of smoke rise from the surface. Add the 1 tablespoon of vegetable oil and heat for a few seconds, or until it shimmers. Add the chicken and, using a spatula, quickly spread it into a single layer in the wok. After about 10 seconds of browning time, stir-fry the chicken, quickly stirring the chicken around to cook through, about 1-2 minutes.

Add the zucchini noodles, carrots, green onions, garlic, 2 tablespoons soy sauce, and 1 tablespoon water. If using chili sauce, add 1-2 teaspoons, or to taste. Stir-fry to combine all the ingredients and cook through the vegetables, about 1-2 minutes.

Serve on its own as an entree, or with rice and other dishes as part of a meal.