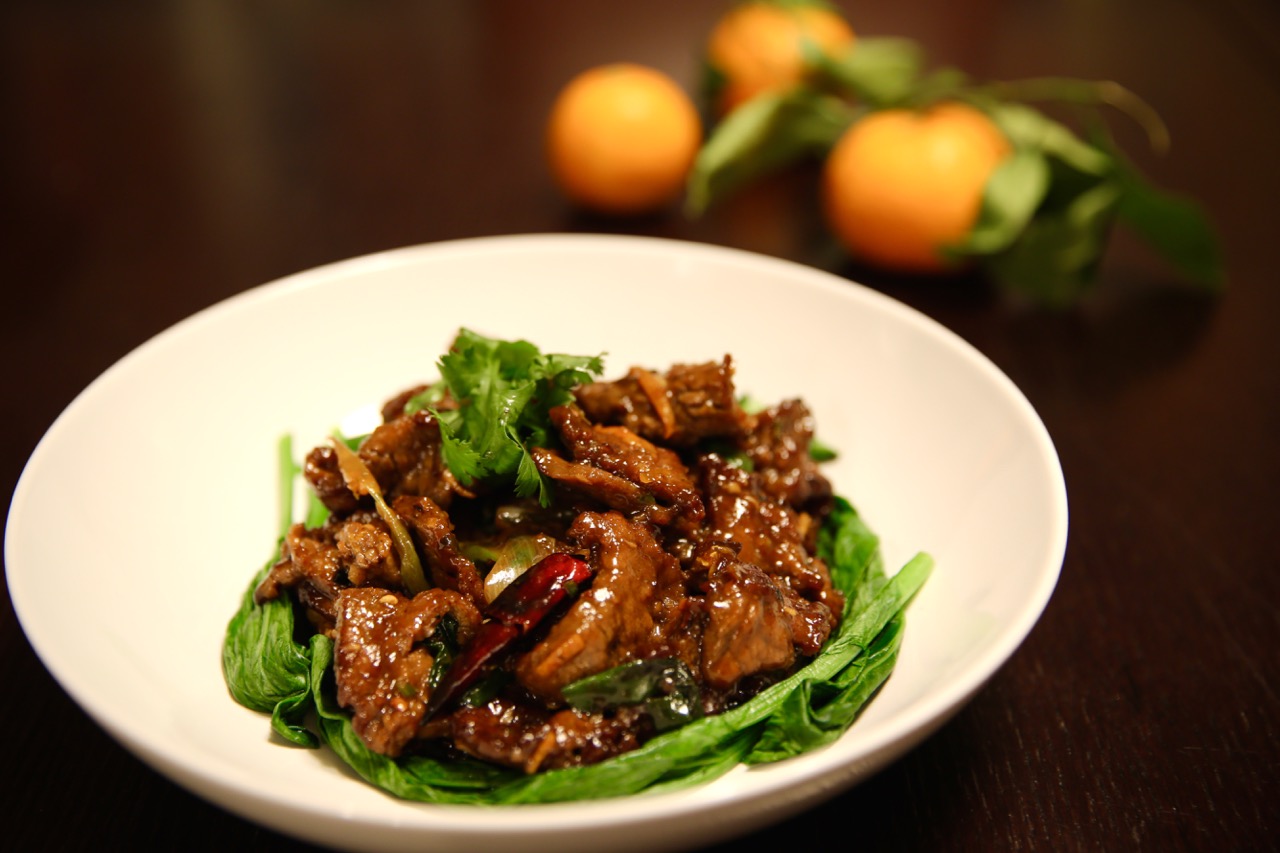 10 Sep

Orange Beef

This dish is a popular one in Chinese restaurants. It's often deep fried and drenched in a goopy sauce. It doesn't have to be. I use fresh orange peel instead, which results in a brighter flavor.

Traditionally, the dish is made with dried orange peel (chen pi) that you buy in Chinese herb shops. Among its purposes, dried orange peel is used to help settle the stomach. For Chinese New Year, oranges – because of their golden color – are auspicious and therefore incorporated into the celebration feast. I'll be making this for my Chinese New Year dinner.

ORANGE BEEF
SERVES 4

1 pound flank steak (about 1/2 a flank)

Marinade:

2 tablespoons soy sauce
1 tablespoon Shaoxing rice wine or a dry white or red wine (an everyday wine is perfect)
Juice from ½ a navel orange or a whole clementine
2 medium cloves garlic, crushed
1 teaspoon finely minced fresh ginger
1 stalk green onion, finely chopped
3 tablespoons cornstarch

½ cup vegetable oil for frying

Sauce:

1 navel orange or 3 Mandarin oranges (such as clementines)
2 tablespoons soy sauce
¼ cup water
1 teaspoon oil
1-2 dried red chile peppers, cut in half
1 stalk green onion, cut into 3-inch segments
1 teaspoon freshly ground Sichuan peppercorns
Chopped cilantro, optional

For the beef: Trim the flank steak of any large pieces of membrane or silver skin. Cut the flank in half lengthwise, or with the grain. (It should be relatively easy to determine the grain on flank steak. There are visible vertical lines in the meat. Find the center and make a cut along the grain.) This should give you two pieces that measure about 3-4 inches across. Sometimes, a piece of flank can be pretty wide. If it looks like you can cut three strips that are 3-4 inches across, do so.

Now, against the grain on each strip, cut ¼-inch slices. Place the slices in a mixing bowl large enough to hold the beef with the marinade.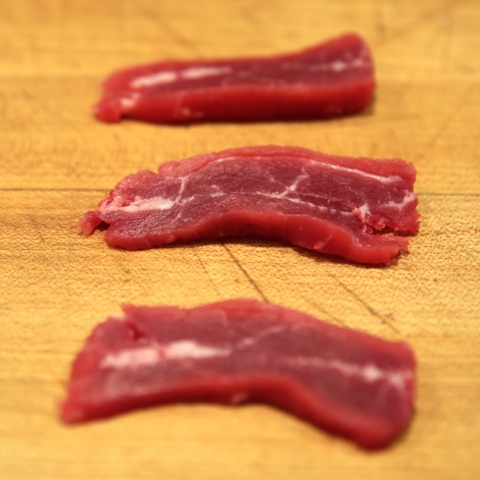 For the marinade: Using a peeler, gently peel strips of orange zest. Be careful not to get the white pith. Once you have a stack of these zest segments, stack them and cut them into fine slivers. Set aside. Now juice the orange.
Combine the soy sauce, rice wine (or dry white/red wine), orange juice, crushed garlic, minced fresh ginger and chopped green onions. Add the marinade to the sliced beef. Mix well to distribute the marinade. Now add the 3 tablespoons of cornstarch and mix well again to distribute. Set aside.
To fry the beef: Heat ½ cup vegetable oil in your wok over medium-high heat. Keep an eye on the oil. It won't take long to heat. In batches, place slices of beef in the oil. It will sear quickly. The oil will sputter, so be careful. After about 30 seconds, turn the beef to brown the other side. Once both sides are browned, remove to drain on a paper-towel-lined plate. Work quickly to repeat the same process for the remaining beef. You may have to lower the heat, if the oil seems to be overheating. Or add a splash of fresh oil to regulate the temperature.
Once you're done frying the beef, clean out the wok. You will have to pour the frying oil into a heat-proof container to cool and then discard.
To stir fry: To make the sauce, combine the soy sauce, orange juice and water in a small bowl or measuring cup and set aside.
Heat the wok over high heat. Add the 1 teaspoon of oil for a few seconds. Add the dried red chile and the green onion segments. Stir fry for a few seconds. Add the liquids. It will sputter a bit. Let heat through for about 10 seconds or so. Add the beef and stir to combine and coat completely with the sauce. Continue to stir fry the beef in the sauce to allow to heat through and finish cooking, about 1-2 minutes. Sprinkle the ground Sichuan peppercorns over and mix well again. Turn off the heat. Dish out and garnish with optional chopped cilantro. Alternatively, blanch some greens (e.g. spinach, yu-choy, gai lan, etc.) and place the beef on the bed of greens.