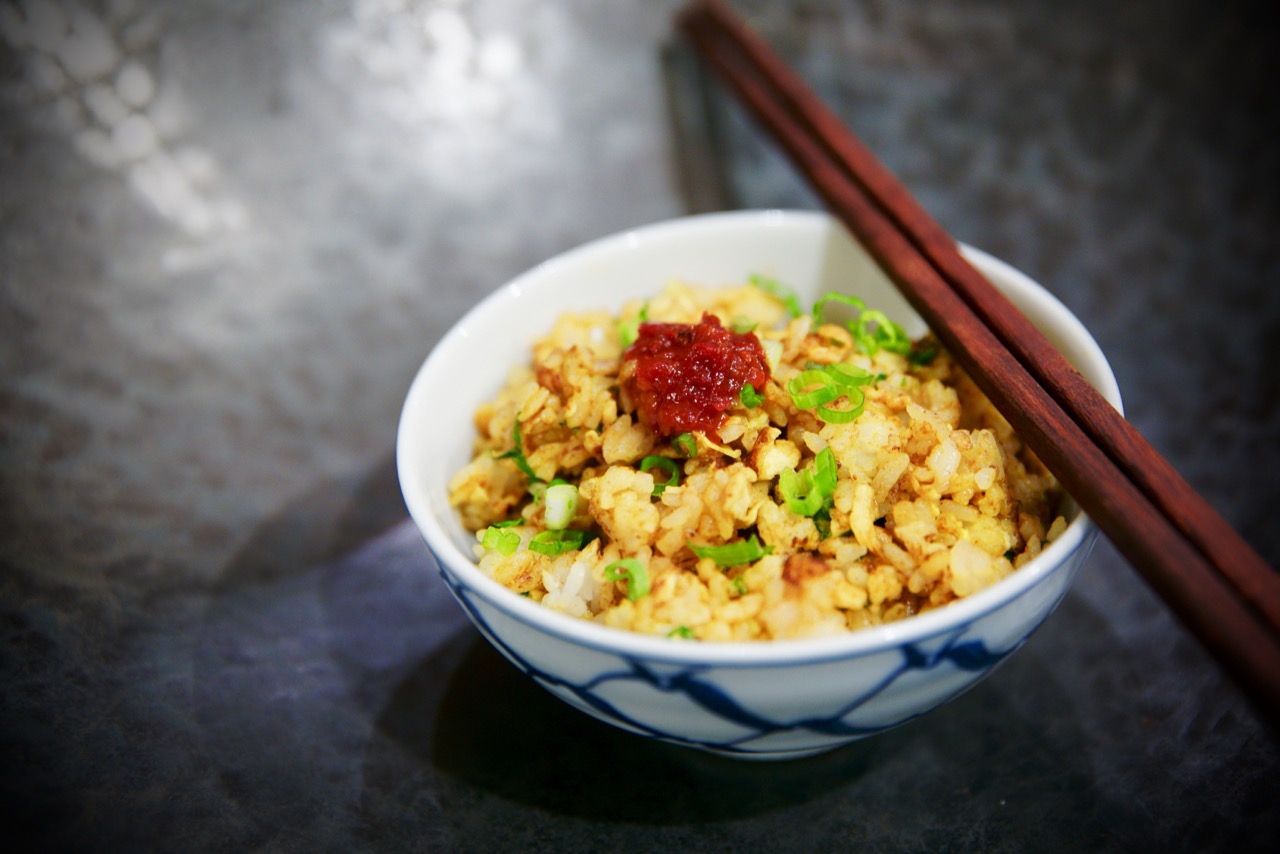 24 Feb

Egg Fried Rice with Curry
I was in grade school when I first learned that fried rice could become fragrant if it had green onions in it. My grandmother was visiting and she'd made some egg fried rice with chopped green onions that had released their aroma from being seared in the wok.
Ididn't like green onions and let my grandmother know it. But she assured me that the green onions gave the rice another dimension. It would be many many more years before I would appreciate that wisdom.
In college, I learned to love the flavor of curry in my fried rice. I juggled working at my family's restaurant and attending classes. For a fast lunch, my mom would cook me a plate of curry fried rice. Often, it included Chinese cabbage and maybe chicken. But I've always appreciated the simplicity of egg fried rice. I imagine it's on par with Mexican beans and rice or Italian risotto and peas. I like it because you can really taste the wok-sear on the rice.
But if I make egg fried rice for myself nowadays, I stir fry some green onions with the egg before adding the rice and then add some curry powder and chili paste. It's the best of all worlds.
EGG FRIED RICE WITH CURRY
SERVES 2
2 tablespoons vegetable oil
2 eggs, beaten
2 stalks green onions, finely chopped
2 cups cooked rice (ideally completely cooled)
1 teaspoon soy sauce
1/4 teaspoon salt, or to taste
1 teaspoon curry powder
Chili paste to taste
Heat your wok over high heat. Add the oil and heat for a few seconds. Add the egg to the oil; it will quickly pool at the bottom. Toss in the green onions. Let the eggs cook for a few more seconds.
Add the rice and immediately start stirring it with the egg and onions. Continue to toss and stir to fully incorporate the ingredients. Add the soy sauce, salt and curry powder. You can add the chili paste now or you can serve it on the side. Quickly stir the seasonings with the rice to distribute. Continue to stir fry until the rice has an even yellow color (from the curry). Serve.