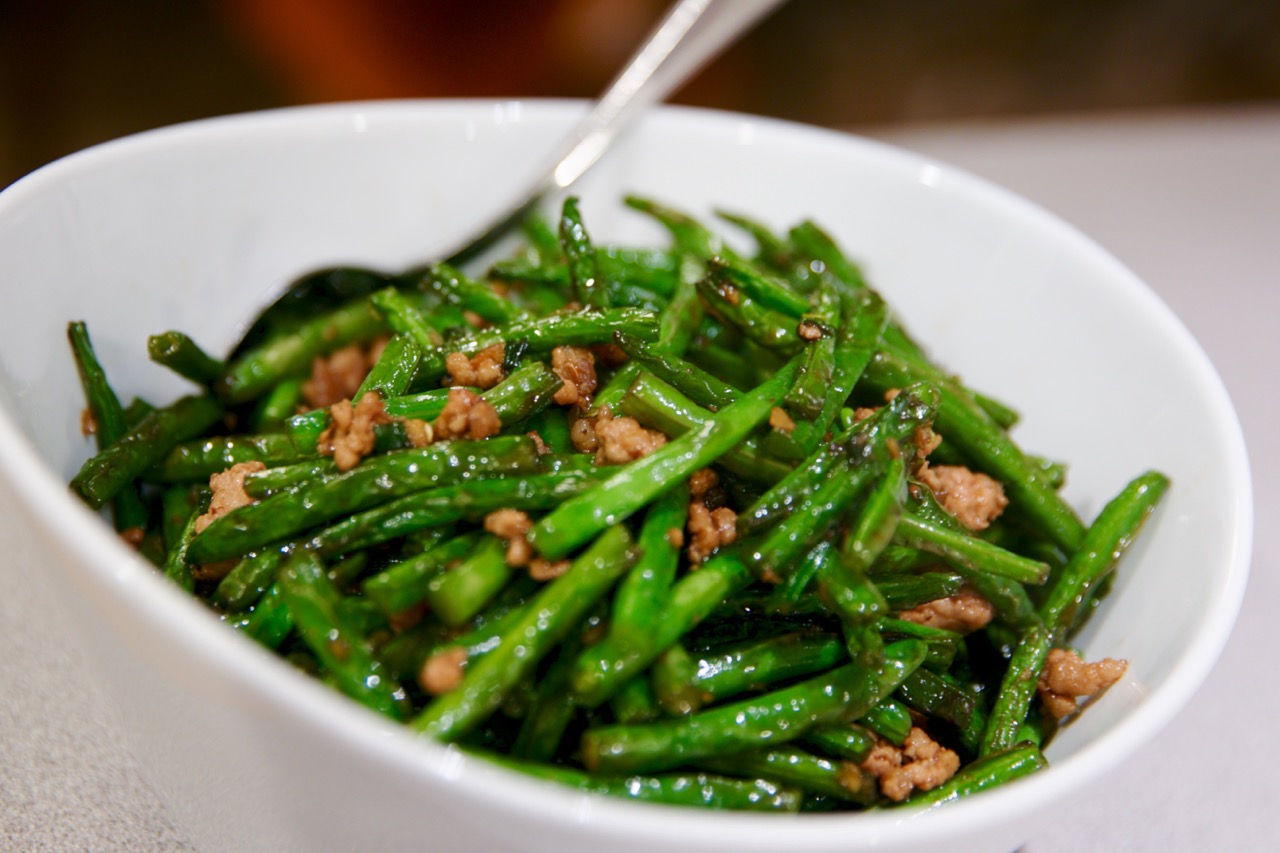 27 Nov

Dry Fried Green Beans

Ithink green beans should be dry fried. Period. You can get creative with the seasonings, but the technique of shallow frying to blister the skins gives the beans great texture and creates plenty of nooks and crannies for the sauce. Dry fried green beans is a popular dish in Chinese restaurants and it certainly was a hot seller at my parents' restaurant.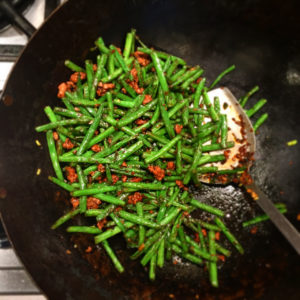 I made this dish twice this week: My mother-in-law requested it for Thanksgiving at her house, and I cooked the dish for a second Thanksgiving dinner at my house for my side of the family. Turkey, mashed potatoes, gravy, stuffing and dry fried green beans. It works.
I recall the time 16 or 17 years ago when one of my co-workers at The Denver Post didn't believe me when I said this green bean dish is really delicious. We were chatting about what we would be bringing to a staff potluck. He challenged me and insisted his broccoli salad would beat my dry fried green beans in a taste off. I accepted the friendly bet. My co-worker sampled the green beans and never spoke to me about broccoli salad again.
DRIED FRIED GREEN BEANS
Makes 4 Servings
This dish comes from the Sichuanese and typically contains a preserved vegetable called ya cai. In the Seattle area, I have found ya cai at Asian Food Center. But, because ya cai is not widely available, I'm leaving it out of this recipe.
1 pound French green beans (regular green beans will work, too)
1/3 cup vegetable oil
¼ cup unseasoned ground pork (not sausage)
1 stalk green onions, finely chopped
1 tablespoon minced fresh ginger
1 clove garlic, crushed
1 tablespoon soy sauce
1 tablespoon water
1 teaspoon sugar
Trim the green beans and cut them in half or, if really long, into thirds. Place a couple layers of paper towels on a baking sheet. Set aside.
Heat the wok over medium-high heat. Add the oil and heat for about 15 seconds. In batches, add beans in a single layer in the oil. Quickly stir fry the beans, gently swishing them around in the oil. The skins of the beans will start to blister. Once you see that most of the beans in each batch look lightly wrinkled but not necessarily browned, remove them from the oil. It's ideal to use a slotted spoon. Place the beans on the paper towel-lined baking sheet to absorb any residual oil. Repeat with the remaining beans.
After you're done dry frying the green beans, dump out the oil. In the same wok over high heat, brown the ground pork. Once the pork is nearly cooked through, add the onions, ginger and garlic. Stir and toss ingredients for a few seconds to combine. Add the beans and stir and toss to combine.
Add the soy sauce, water and sugar. Stir and toss. Taste a bean. If it doesn't taste salty enough, you can add another splash of soy sauce, and stir to incorporate. Serve with rice.