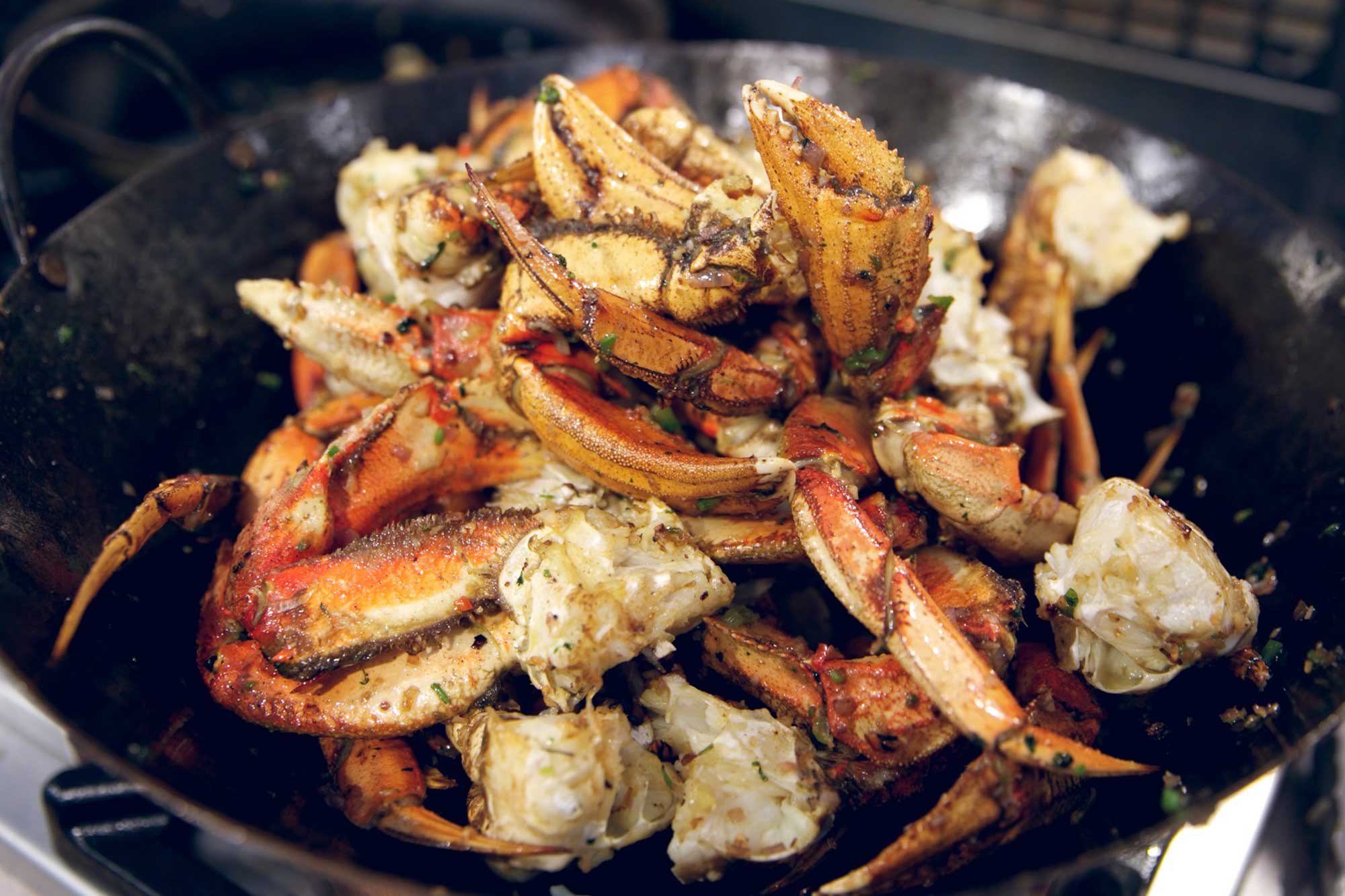 26 Nov

Dungeness Crab with Sichuan Pepper Salt

Ilove Dungeness crab. But I'm more accustomed to eating it hot and fresh out of the wok – not chilled. After boiling crab, toss the clusters in the wok with Sichuan peppercorn-salt, green onions, ginger, garlic, shallots, chiles and cilantro. By the time you've finished shelling a piece of crab, you will lick your fingers.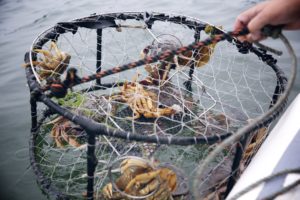 This summer, we spent a long weekend on Camano Island and had the good fortune to be able to go crabbing. It was a banner catch and we had to come up with different ways to prepare the crab: chilled and dipped in butter; mixed in a soup; and, of course, stir-fried.
One of my favorite preparations is salt-and-pepper crab. Every cook has a slight variation on the combination of aromatics. I created my version based on what I had on hand.
DUNGENESS CRAB WITH SICHUAN PEPPER SALT
Makes 4-6 Servings
2 tablespoons vegetable oil
2 tablespoons crushed fresh garlic
2 stalks green onions, finely chopped
2 tablespoons minced fresh ginger
1 medium shallot, finely chopped
¼ cup chopped fresh cilantro
1 jalapeno, seeded and finely diced
1 teaspoon kosher salt
1 teaspoon freshly ground Sichuan peppercorn (see Note)
3 Dungeness crab, cleaned and boiled, and segmented
Clean and boil the crab just before you're ready to stir fry. (If you do cook the crab in advance and chill it, you will need to stir fry the crab a little longer to heat all the way through.)
Heat wok over high heat. Add the vegetable oil and let heat for about 5-10 seconds. Add the garlic, green onions, ginger, shallots, cilantro and jalapenos. Quickly stir fry all the aromatics for about 30 seconds. Add the crab legs and toss with the seasonings. You may have to turn the heat down to medium as you toss all the seasonings with the crab. It may require you to use a spatula in one hand and tongs in the other to incorporate all the ingredients. Sprinkle the salt and Sichuan peppercorns. Toss again and serve.
Note: Toast about 1 ½ tablespoons whole Sichuan peppercorns in a skillet over medium heat for about 1 minute. Shake the pan to keep the pepper from burning. Grind in a spice grinder.