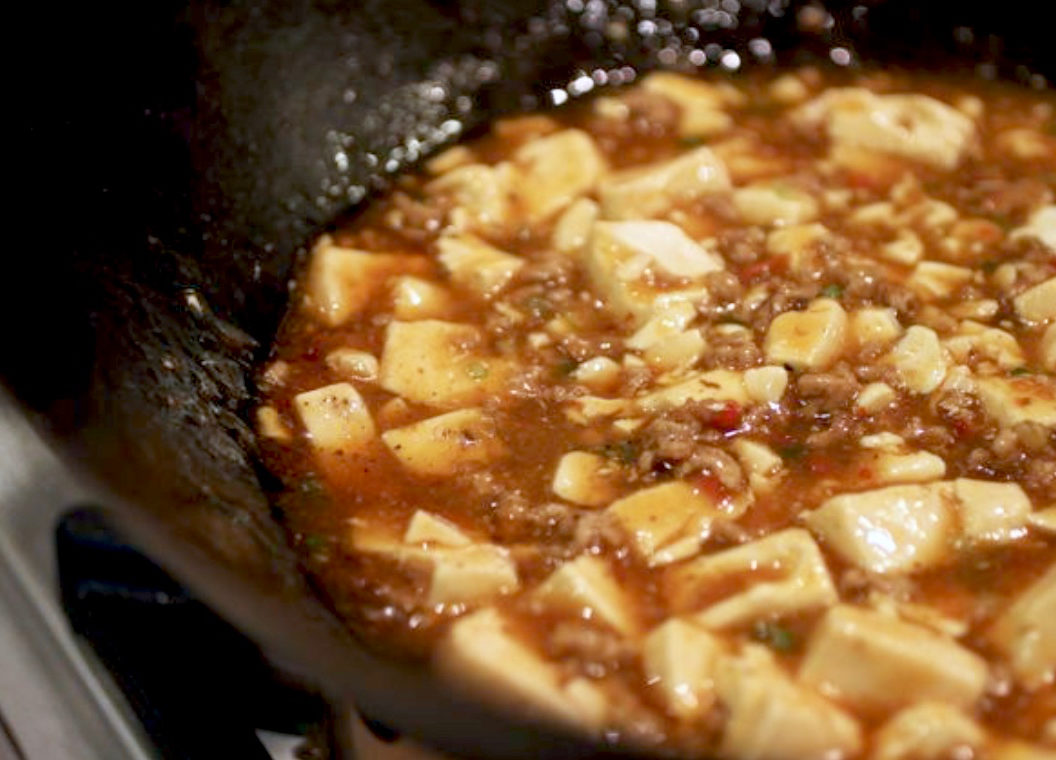 08 Jan

Ma Po Tofu

When I go to a Chinese restaurant, especially one that specializes in Sichuanese dishes, I always order ma po tofu and hope that the chef doesn't stray off the path by adding peas and carrots, for example, or adding so much soy sauce that the dish is brown instead of chili-paste red. I always hope that the sauce has enough Sichuan peppercorn in it that it gives just the right amount of numbing spice — the namesake ma la.

There is lore about how the dish was concocted and controversy about what ingredients are authentic (the variations on the theme are astonishing).

I've never been to the Sichuan Province, but I'm told that the the most authentic ma po tofu has a layer of chili oil atop the dish. I like the spice, but not the slick, so I've reduced the amount of oil to 3 tablespoons to minimize the greasiness. I use green onions instead of the traditional green garlic, because green onions are easier to find. I also like a drizzle of sesame oil at the end, which isn't traditional, but the flavor is good.

MA PO TOFU


Serves 2-4 as part of a dinner

Ingredients:

1 block of medium-firm or soft (not silken) tofu, about 1 pound

2 cups water

1 teaspoon salt

3 tablespoons peanut oil (or canola oil; don't use olive oil)

¾ cup (about 4 ounces) ground unseasoned pork

1 tablespoon chili sauce (preferably a Chinese brand)

1 tablespoon chili bean sauce (Pixian style, if available)

Salt to taste

2 stalks green onions, finely chopped

2 teaspoons minced fresh ginger

2 tablespoons cornstarch mixed with 3 tablespoons water to create a slurry

1 teaspoon ground Sichuan peppercorns

¼ of teaspoon sesame oil

Cut open the tofu package and drain out the liquid. Cut the tofu into cubes about 1-inch-by-½-inch. It doesn't have to be exact. Place the tofu in a small pot with about 2 cups water and 1 teaspoon of salt. Bring to a simmer and then turn off the heat. Let the tofu sit in the hot water while you finish preparing the other ingredients.

Heat the wok over high heat. Add 3 tablespoons oil and heat for about 10 seconds. Add the ground pork and stir fry until brown. Add both chili sauces. Stir to combine the hot sauces with the pork.

Gently add the tofu, with the steeping water. Very carefully stir the sauce and tofu to combine. Let simmer for 2-3 minutes. Add salt to taste. Sprinkle on the green onions and ginger. Add the cornstarch slurry slowly and stir to thicken the sauce. If it looks like it's getting too thick, then don't use all the slurry. Add the ground Sichuan pepper and give it one last gentle stir. Drizzle on the sesame oil and serve.